Boys from Reception up to Year 6 all battled it out to see which house would come out on top as the winners of House Cross Country.
A roundup of the matches in weeks commencing 6th and 13th November.
On Wednesday 15th November, Year 6 and selected Year 5 pupils, took part in the national 'PRIMARY MATHEMATICS CHALLENGE'.
School council boys helped Mr Morgan-Nash mark 70 years of St Edward's Prep School by burying a time capsule!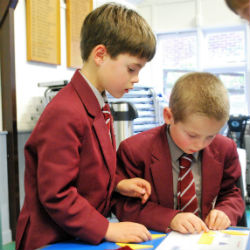 On Monday 13th November, seven Year 4 boys had the privilege of taking part in the very first St Edward's Maths Challenge organised by Douglas Buchanan.
Year 5's have been learning about incredible inventions and inventors that changed the world.
Reception boys rose to the challenge of creating a life-sized car.
Reiss-Alexander is a member of the Chelsea FC Academy. Now in Year 6, he has been at St Edward's since he started in Reception at the age of four. Like most boys his age he is passionate about football, however for Reiss-Alexander his passion could one day make him a household name.